Invisalign and You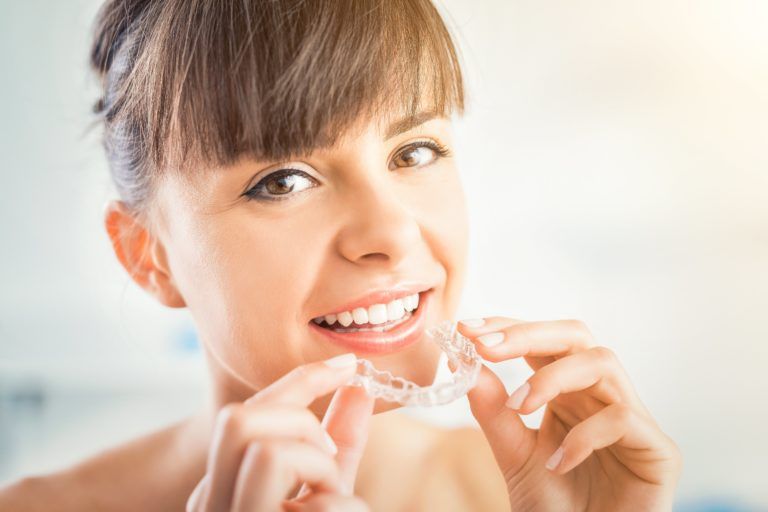 If you've decided it's time to embrace a more perfect you and have decided to start that process by straightening your teeth with Invisalign, then this guide is going to be a must-have for you. Invisalign is an incredible way to make over our appearance and ensure that we embrace the power and potential of a fantastic smile. Even better we get to achieve it without going through the awkward period of having brackets and wires visible on our teeth. To have your most successful experience with Invisalign follow these Do's and Don'ts.
Do:
Clean Those Trays – We know you've got enough packed into your morning, but those trays need to be cleaned in the morning. Bacteria can build up in them if you don't and that's not something anyone wants.

Soak Your Aligners Every Day. YES Every Day – Cleaning your Invisalign is going to be a lot easier if you're certain to soak them every night in an approved cleanser. Soak them for a bit, scrub them off with an extra toothbrush saved for this purpose, and rinse them off before inserting them.

Brush You Teeth and Floss Before The Trays Go On – You don't want to trap food and particles in where they can do damage to your tray and your beautiful teeth.

Don't Leave Them Out – Even if you're only taking them out for a little while to eat, make sure they get stowed in their proper container. This will keep them from drying out and avoid accidental damage.
Don't:
Don't Eat With Them In – One of the major benefits of Invisalign trays is also one of the biggest drawbacks. Whatever you do don't eat with these devices in, it can damage them and cause stains that will impact their invisible nature.

Don't Clean The Trays With Toothpaste – We know, it's tempting, but you want to use the cleansers that are approved for it. Toothpaste can dull them trays making them easier to spot, and can actually discolor them as well.

Don't Use Scented Or Colored Soap – These can lead to discoloration of your trays and the taste of the scent can get lodged in the tray, which isn't going to be pleasant to live with all day.
While you'll only be wearing each tray for a short period of time, typically a couple of weeks, you want to make sure you're caring properly for them in the time you have them. In this short period of time, you can cause significant damage to your teeth if you have to live without them. Regular cleanings with your dentist are also going to be essential during this period, as straightening your teeth won't help their appearance if they aren't healthy!
If you're considering getting Invisalign to treat your misaligned teeth pick up the phone and call Gregg Tartakow at the Orthodontic Center of Santa Monica. The experts at their Santa Monica, CA office have been helping patients like you tackle their orthodontic concerns and get back to life with a beautiful straight smile.